Built in 2005/2006 the Estrela do Atlântico is a perfect combination of the traditional architecture of the Azores with the modern amenities expected by todays traveller.
We offer an exclusive atmosphere for both the business traveller and the family on vacation. Our spacious rooms and landscaped garden ensure that our guests will enjoy their privacy.
Several local and national artists have helped in the decoration of the rooms making them both stylish and unique.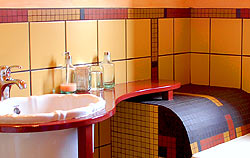 We offer three double rooms and two suites, each with a private balcony or terrace from which one can enjoy the view over the ever dominating Pico, the Espalamaca or the historical part of Horta.
Each unit has access to telefone and the internet.
A dining room that can be converted to a conference room or a dancefloor for up to 30 persons, opens on to a walled garden with many small terraces, a swimming pool and a 4,5m trampoline.